When it comes to choosing a wardrobe for your home, there are many different options available on the market. One type of wardrobe that has become increasingly popular in recent years is the modular wardrobe.
Modular wardrobes are made up of individual modules, or units, that can be combined to create a variety of storage solutions. You can choose from a wide range of sizes, styles, and finishes to create the perfect wardrobe for your home.
A modular wardrobe offers many benefits over a traditional wardrobe. They are more versatile, easier to install, and can be customised to your individual needs.
The Disadvantage of Owning a Non-modular Wardrobe
Steel almirahs, for example, are seen as a simple and quick solution to your storage requirements. All you have to pay for is the delivery, and the almirah will be delivered to you.
However, your clothes and items may increase and reorganising them becomes a need.
Over time, your belongings increase in size, while the method you wish to store and organise them also changes. The readymade approach isn't always enough on its own to keep up with growth.
Modular wardrobes are also more affordable than traditional wardrobes.
If you are looking for a new wardrobe, consider a modular one. Here are some of the benefits of choosing a modular wardrobe system for your home.
(1) Saves You Space
Modular wardrobes are designed to save you space. If you have a small bedroom, this is an excellent way to maximise the available space.
You can also use modular wardrobes in larger bedrooms to create more storage space or to segment the room into different areas.
Wardrobes are typically thought to consume space in your room. Modular wardrobes, on the other hand, may actually increase the amount of space available in your area.
Standard wardrobe doors might make it difficult for you to move about when open, but a sliding door wardrobe may actually make the space seem larger.
(2) More Affordable & Eco-friendly In The Long-run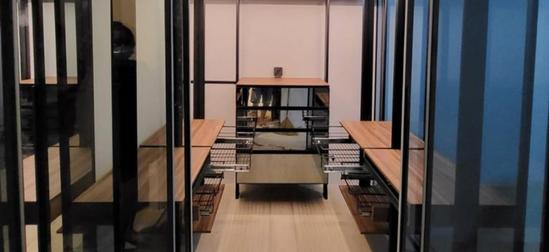 Modular wardrobes are more affordable than traditional wardrobes. This is because you only need to buy the pieces that you need.
You can also add more pieces to the wardrobe as your needs change.
Not only that, but moving out wouldn't be a problem. Compared to a built-in wardrobe, many times, homeowners in Singapore tend to just leave it or the next homeowner who doesn't' like the design might end up just tearing it down.
(3) Highly Customisable: Space, Style, Design
You can build multiple types of storage areas inside your clothing closet by utilising a modular wardrobe. This is how you may adapt your wardrobe to meet your specific storage requirements.
You can add or take away pieces from the wardrobe as you see fit. If you want to change the look of your wardrobe, simply change the doors or add some accessories.
There are many different styles and designs available so you can definitely find one that fits your home perfectly.
You can personalise your wardrobe to the space available in your room. There are various types of modular wardrobes, including 2-door, 3-door, and 4-door versions with an extra loft area built in. You may choose between swing doors or sliding doors to allow you enough movement within the wardrobe.
(4) Many Design Options Available
Modular wardrobes, on the other hand, are customisable to your own taste or the décor and atmosphere of your space.
You may select from a variety of materials (glass, wood) and hues to build a wardrobe that complements the look and feel of your room.
And because they are designed to be dismantled and reassembled with little effort, you can easily change the look of your wardrobe as often as you like without spending a lot of money.
(5) Clutter-free Lifestyle
Finally, modular wardrobes minimise clutter. You can keep your wardrobe in a neat manner since you put so much thought into the number and arrangement of racks and shelves and drawers. You don't have to worry about decluttering every now and then.
(6) Easy to Maintain & Clean
Cleaning a modular wardrobe is easier than you think. Most of the time, you won't even need more than a damp cloth to wipe down the shelves and drawers. The smooth surfaces also make it easy to vacuum in case there's dust buildup.
All in all, these are some of the benefits that you can enjoy by choosing a modular wardrobe for your home. If you're looking for one, make sure to check out our open concept wardrobe collection at OPSH! We offer a wide range of Wardrobes systems in Singapore to choose from, so you're sure to find one that fits your needs and budget.
Get a customised wardrobe in Singapore with OPSH today.