There are several things to consider while planning a built-in wardrobe for your house. Space, usefulness, efficiency, space, and beauty all have an important part to play in ensuring that you can create the built-in wardrobe of your dreams. Before you start working on your built-in wardrobe, there are a few details you should know.
1. Size Of My Built-in Wardrobe
The size of your built-in wardrobe will be determined by the size of your room you have available.
You need to take measurements of your room where you want to put the wardrobe and compare it to the available space in your room. If you have a small room, you may not be able to accommodate a large wardrobe. Conversely, if you have a large room, you may be able to put a small wardrobe in it and still have some space left over.
2. The Shape Of My Room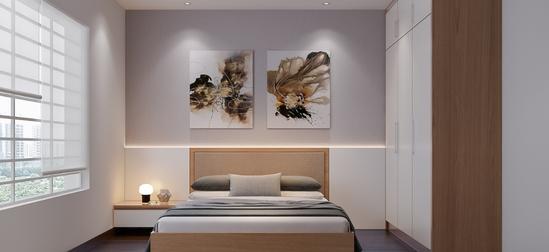 The shape of your room will also dictate the shape of your built-in wardrobe. If you have a square room, then you can go for a square or rectangular wardrobe.
If you have an L-shaped room, then you can go for a triangular wardrobe.
The possibilities are endless, but the shape of your room will ultimately dictate the shape of your built-in wardrobe.
3. Light or Dark Coloured Cabinetry?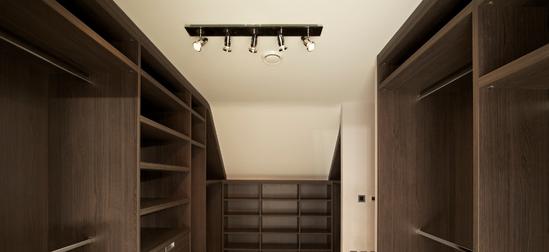 Choosing cabinetry is very much related to the style and colour palette of a home.
If you have a light and airy home, then you might want to consider built-in wardrobes with lighter coloured cabinetry.
Conversely, if your home has a more dark and moody vibe, then you might want to go for built-in wardrobes with darker cabinetry.
At the end of the day, it really comes down to personal preference.
4. Natural or Synthetic Material For Cabinetry?
When it comes to choosing the material for your cabinetry, you have two main options: natural wood or synthetic materials.
Natural wood has a classic and timeless look that can add warmth to a room. However, it is important to note that natural wood is prone to warping and cracking over time if it is not properly maintained.
Conversely, synthetic materials are more durable and require less maintenance. However, they can sometimes give a room a cold and sterile feeling.
5. What Type Of Lighting Should I Use?
The type of lighting you choose for your kitchen will depend on the overall style you are going for. For a more traditional look, try using brass or glass pendant lights.
If you want a more modern feel, try using recessed lighting or track lighting.
6. Where Should The Lighting Be Placed?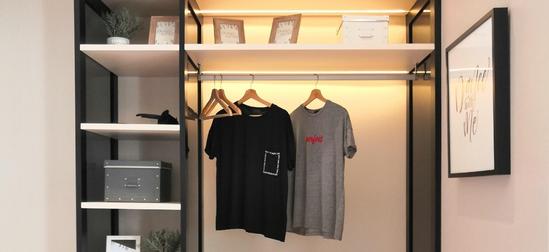 When it comes to bedroom design, lighting can make a big difference. Ambience lights and even extra light fittings may be useful to help you view your items in your wardrobe clearly.
Investing in LED lights is another low-cost option that may help you preserve your clothing. LEDs are less glaring and give warmer lighting for your closet, making them a good choice.
7. Should I Install A Wardrobe Door?
While the decision of whether or not to have doors is largely a personal one, it may also be influenced by budget, space, and style.
As previously stated, closet doors add to the final expense by at least double and become inconvenient in a confined location since they effectively become a barrier.
One good solution is to have a sliding door that will not reduce the overall that you have. Doors are great for hiding away your clothes and keeping the space looking tidy.
Another popular option is to have Bi-fold doors, these are two doors that overlap in the middle when they are opened. These types of doors can be less expensive than sliding wardrobe doors..
8. Ratio Of Hanging Space To Drawers And Shelving
There should be a balance of hanging space to storage within the wardrobe. This can be achieved by utilising different depths of shelving and drawer heights.
For example, a deep drawer can be used for storing jeans and other items that are best kept folded, whilst shallower drawers can be used for t-shirts, socks and underwear.
Shelving can be used for items that don't need to be hung up, such as purses, shoes and bedding.
A Better Alternative With OPSH – Open Concept Wardrobe collection
There is a better alternative to traditional fitted wardrobes and that is OPSH Modular Wardrobe Systems.
OPSH Modular Wardrobe Systems are made up of individual modules that can be combined to create the perfect storage solution for your home.
Each module is designed with a specific purpose in mind, such as hanging space, shelving or drawers, so you can mix and match to create a wardrobe that suits your needs.
What's more, OPSH Modular Wardrobe Systems are fully adjustable, so you can easily change the layout of your wardrobe as your needs change. Interested to get a customised wardrobe in Singapore? Consult our team of professionals today.