A walk in wardrobe is a room, usually attached to a bedroom, where you can store your clothes and other personal belongings.
You can find many different types and designs of walk in wardrobes, but they all have one thing in common: they provide a convenient way to organise and store your things.
Walk-in closets provide more area for additional storage solutions. You may set aside a space intended for ironing and folding clothes, as well as some other storage space for anything you need or can imagine of, in this case.
Does Walk In Wardrobes Add Value To a House
The simple answer is yes, a walk-in wardrobe will absolutely add value to your home – if it is well designed.
It's a significant selling point for any property, and will make your home more appealing to potential buyers. Not only that, but a well-designed and organised walk-in wardrobe can also make your life easier.
There are two main types of buyers in the market: those who are looking for a family home to live in and those who are looking for an investment property to rent or sell out.
For the first type of buyer, if they want a property that has everything they need and more, and a walk-in wardrobe ticks that box. It adds an extra layer of convenience and luxury to the home, and makes it feel even more like a haven.
For the second type of buyer, a walk-in wardrobe can make the property more attractive and ultimately increase its resale value. This is because, as we all know, first impressions count. And if a potential buyer walks into a home and is immediately impressed by the level of organisation and sophistication of the walk-in wardrobe, they are more likely to put in an offer.
Potential Issues of Walk In Wardrobes
If not designed properly, they can end up taking up a lot of space in your bedroom (which is why it is important to consult with a professional wardrobe designer beforehand).
Not only that, but if the buyer of your property does not like that idea, it may be difficult to hack in out.
This is why, if you are planning to put your home on the market in the future, it may be worth refraining from adding a built-in wardrobe and instead opting for a free-standing one.
Consider a Modular Wardrobe System Instead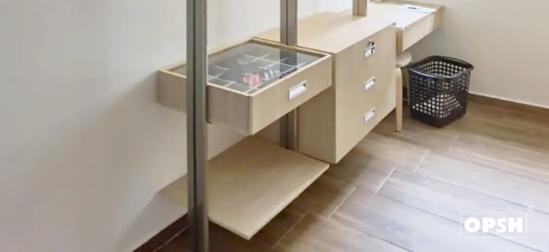 One way to get around the potential space and design issues of a walk-in wardrobe is to install a modular wardrobe system. These are becoming increasingly popular in Singapore, as they offer homeowners a lot of flexibility when it comes to design.
Not only that, but they can be dismantled and reconfigure, so you do not have to worry about hacking it out if you do not like the current configuration.
Create a Walk-in Wardrobe Without Blowing Your Budget
Measure Your Space
The first step is to accurately measure the space you have available. This includes the dimensions of the room as well as any existing furniture or other items that will need to be taken into account.
You should also take note of any doors, windows, or other obstacles that could potentially affect the layout of your wardrobe. Once you have all of this information, you can start planning the layout of your wardrobe.
Walk-in Wardrobe Ideas For Small Rooms
If you have a small room, there are a few things you can do to make the most of the space. One option is to use corner shelving to make use of otherwise wasted space.
You can also hanging rods at different levels to maximise storage space. If you have high ceilings, you can install shelves above the hanging rods for even more storage.
If you have the space, a small dresser or chest of drawers can also be a great addition to a small walk-in wardrobe. This will give you additional storage for items such as socks and underwear.
What Other Improvements Add Value To a Home?
There are a number of other improvements that can add value to your home. These include:
* Adding an ensuite bathroom – this is a great selling point for families with young children.
* Installing a new kitchen – a well-designed kitchen can add significant value to your home.
* Creating more living space – whether it's an extension, loft conversion or simply opening up a few rooms, extra living space is always popular with buyers.
* Improving energy efficiency – making your home more energy efficient is not only good for the environment, but can also save you money on your energy bills. It's a win-win!
By making some simple improvements to your home, you can add thousands of dollars to its value. So, if you're thinking of selling up in the near future, it's definitely worth considering making some changes first.